Google stock prediction
In the "you heard it here first" category, I'm going to go out on a limb and predict that Google's stock will drop 15% to 20% by the end of the year from it's current price of $172.43. My take is that we'll see Google drop back down around $140 to $150 per share before 12/31/04.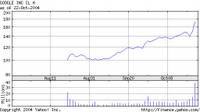 Reasons:
1. Restrictions on insiders and Google employees from selling expire in mid-November. If you were them, would you take your money and run? I would, and I'm betting they will too since tax rates on capital gains are historically low.
2. Google's share price is a whopping 207 times it's trailing 12 months earnings and a hefty 51 times expected earnings over the next year. In other words: relatively expensive.

No, I'm not a professional investor and no, I'm not responsible for your losses if you consider my thoughts and lose money as a result. I just see an interesting aspect to the Google-mania this year and thought to put it in writing. I'll check back on this prediction before the end of the year; I hope you do too.

Trackback links