Amazon recently introduced their "A9" search engine, which is really built of off Google. A9 saves your recent searches and preferences on their servers, so you have a search history from whatever internet connected computer you are on. I recently found a new feature: an Amazon discount of 1.57% on any items at all times. All I need to do is keep using A9 as a search engine: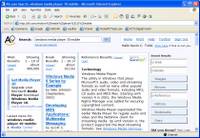 "Kevin C. Tofel, since you've been using A9.com recently, virtually everything at Amazon.com is automatically an additional π/2% (1.57%) off for you. Collecting this discount is zero effort on your part. It will be applied automatically at checkout (it will happen whether you use the shopping cart or our 1-Click Shopping®). You don't need to do anything to get this discount except keep using A9.com as your regular search engine."

Click the post title for the A9 search engine.
Trackback links