Podcasts through Firefox
I've previously written about Podcasts and various software that pulls podcasts; podcatchers I call them. Podcatching software is great if you have a digital media player or Windows Mobile device to synch them to. If you don't have one of those however, there are other alternatives thanks to the new Firefox browser and a great extension called Sage. Sage is another implemenation of an RSS feed reader that is integrated into the Firefox web browser. On a whim, I decided today to try and add a podcast feed into Sage to see if it would let me pull the content. Sure enough, it did!
All you need to get "podcasts on demand" is:
1. Mozilla's Firefox 1.0
2. The Sage extension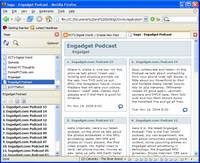 Sage will open in the left pane once you have the extension installed. To use it, just right click in the Sage frame and choose New Bookmark. Enter the URL of the Podcast feed in the Location field and click OK. Sage will find the RSS feed name for you. Once you have podcast feeds set up, you will see a listing of the available podcasts in the bottom frame (see photo above). In the main Firefox browser window you will get a brief summary of the feed's contents if the podcaster has set up the feed with the details. This comes in VERY handy so you can pick and choose which podcasts you want to listen to based on the content descriptions. To listen the podcast, just click on the podcast title of your choice! This is a great way to listen to podcasts on demand whereever you have an internet connection and speakers.
Trackback links