My parents just got a digital camera, but have no way to print their pictures. I think they were stuck on trying to figure out how so many pics fit on a such a small xD memory card; not sure they ever thought about how to actually PRINT their photos! After some on-line research, I settled on the hp photosmart 7760 for them.....and for me. Yup, I liked what I saw so much for the price that I grabbed two yesterday.
Circuit City
had them on sale for $119 each and I had a "10% off your total purchase" coupon.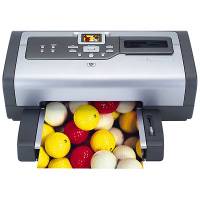 The 7760 effectively doubles as a standalone photo printer as well as a USB 2.0 text and picture printer for your PC or Mac. I considered a photo printer only for my parents (
hp's 370
as well as models from Canon and Olympus), but since their main printer is about 6 years old, I thought I would go for the dual purpose printer. Click read more for additional details.

So, what do you get for $119? For photo printing, the 7760 has a 1.8" LCD screen so that you view pics and print them without a PC. There are card reader slots for all of the current mainstream memory cards: CompactFlash™ Type I and II and Microdrive, SmartMedia, Secure Digital, Multi Media cards, Memory Sticks® (Memory Stick Duo, Memory Stick Pro, Magic Gate), xD-Picture Card™.

Unlike a true photo printer that uses a dye-sublimation technique, this photo printer uses standard 6-color inkjet technology. Unlike the dye-sub printers, the 7760 prints your photo line by line using all of the colors at the same time. A dye-sub printer actually prints your photo several times, once for each major color, which provides better color depth and a wider, truer range of colors. However, after printing a few photos with the 7760, I'm hard pressed to find poor quality of output when compared to a true photo. Unless you are extremely serious about your photos or you are a professional photographer, the 7760's photos will impress you.

The 7760 has more than adequate speed of printing both photos and text. HP claims a 4x6 photo at the best quality can be produced in just under 2 minutes. Text speed ranges between 13 pages per minute (ppm) in draft mode, 3 ppm in normal mode and .6 ppm in best mode. Optional print cartridges can increase these speeds by almost 80%.

For the price, I don't see how you can go wrong. If I did, I wouldn't have purchased two of them; one for my parents and one for me. Installation is simple, the price is right and the output makes you say "wow". If you're in the market for a photo printer, I would strongly consider the 7760 at this price.

For additional information on the 7760, click the post title for basic information or click here for complete specifications.

Trackback links